Melissa "Bee" Gentile: Owner, E-RYT 500, YACEP, Reiki II, Yoga Therapeutics
Melissa has been teaching yoga since 2003 in yoga studios, gyms, corporate facilities, summer camps and public schools. She graduated from TCNJ with a secondary education degree and a minor in theatre. Yoga helped her cope with the demands of teaching and theatre direction. To date, Melissa has completed over 700 hours of extensive yoga training in NY, NJ and Sedona, Arizona. Melissa has studied under the tutleage of teachers from the Kripalu, Iyengar and Anusara traditions. She has also received both a Level I & II Reiki Certification, a Mat Pilates Certification from PIA, a Group Fitness Certification through AFAA, and is trained in Aerial, SUP Yoga and Restorative Yoga. Most recently, Melissa completed 72 hours of extensive training in the Phoenix Rising Yoga Therapy Method and is training to be an accredited yoga therapist. Melissa embraces yoga as a way of life and enjoys sharing a diversified, down-to-earth yoga practice with students of all ages and backgrounds, where joy and balance are the ultimate goals. Melissa leads the 200 hour teacher trainings at Country Flow Yoga; she also teaches English at a local high school, is a published writer and in her spare time, loves connecting with nature. "To do what you love and feel that it matters; could anything be more fun?" ~Julia Child
Lara Kowalewski: Owner, RYT 200, Reiki II
Lara studied at Younique Yoga in Cedar Grove, NJ, where she earned her 200RYT with a specialty in Vinyasa Flow Yoga in 2015. She is also a Level I & II Reiki Practicioner. Lara discovered yoga after teaching five years in an urban district when she felt the sudden urge to find a new way to not only exercise for physical health, but to also "work out" her inner self. Amazed at how the practice alleviated the stresses of teaching in a high school as well as finding a much needed personal balance, she began to do more studying on the subject and that is when the "yoga bug" took hold of her and it became the best addiction she could ever have. Applying ancient wisdom to our contemporary western world in a useful and understandable way, Lara thinks "outside the box" in her teaching style and encourages physical and spiritual growth for the modern yogi in our modern world. She loves being part of a community where people come to practice with open minds and hearts, no matter where they are in their yoga journey, and feel really good about themselves without any judgement. To her, yoga is best defined as staying balanced and present in each moment, not just on the mat, but in all aspects of this life. "Just remember to breathe through it and go with the flow."
Michele Morando: RYT 200, LMT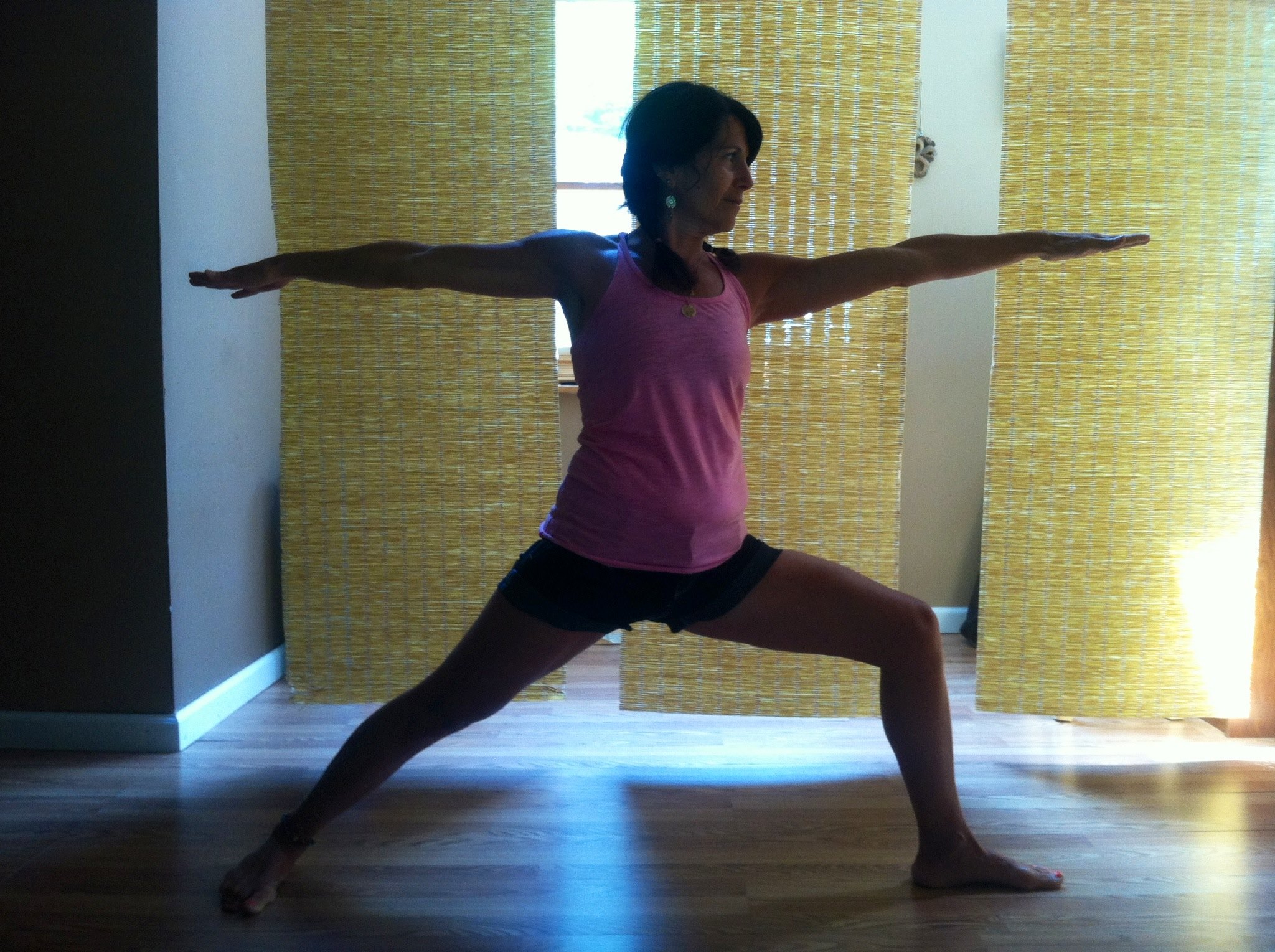 Michelle has been a fitness instructor for many years. She has taught Pilates, Spin, and Kettle Bell group fitness classes and is also a massage therapist. Michelle began her yoga journey several years ago as a student and soon after, became a certified yoga teacher. Yoga has helped her grow stronger, more flexible and more fearless, both on and off the mat. Michelle enjoys yoga because it allows her to sweat, breathe, break boundaries and connect her mind, body and soul. In her classes, Michelle loves to help others thrive and deepen their practice while listening to their bodies. Her hope is that her students step off the mat feeling refreshed, balanced and stronger than when they stepped on it. Yoga has inspired her to truly live in the moment. "Love is my religion." ~Ziggy Marley
Debra Tuman: RYT 200 & Reiki Master
Deb is a deeply passionate person, loving wife of 32 years, mother of three grown children and a full-time orthodontic assistant. She took her first yoga class seven years ago and was hooked. Since then, yoga has become a daily part of her life. Her practice is truly a philosophy, psychology and religion. Her goal as a yoga instructor and Reiki Master is to enlighten and share the experience she discovered in her personal practice. Deb also enjoys writing for a local newspaper and enjoys meeting new people each week, allowing them to voice their opinions. In her restorative classes, Deb aims to be an instrument of guidance for all beings to reach their potential to heal themselves by realizing their true purpose, mission and acceptance.
Adella's yoga journey started in 2013 when she was training for her first 5K. After watching YouTube videos on yoga for runners, she began to incorporate more asanas into her training. The 5k came and went, but the yoga stuck. Adella started practicing every day and just like that, a new yogini was born! Over the past 5 years, yoga has helped Adella cope with anxiety, stay in shape, feel centered, and live mindfully. Off the mat, Adella can be found hiking, relaxing in her hammock, or cuddling with her dog, Eleanor. Adella completed the Country Flow Yoga RYT-200 Hour Training last August. She embarked on this journey to not only start teaching yoga herself, but also to deepen her own practice. She aims to spread the importance of mind/body connection and inspire others to see the light that is yoga. "Lokah Samastah Sukhino Bhavantu."
Bre Moskwa: RYT 200, LMT, Reiki II
Bre Moskwa is a yoga teacher, licensed massage therapist, reflexologist, aromatherapist, 2nd degree reiki practitioner, wife and mother of two. Bre completed her 200 hour Yoga Teaching Certification at Country Flow Yoga in 2018, and currently teaches the "Yoga Happy Hour" classes here on Wednesday and Friday evenings. She also has been painting for 20 years and has led more than a dozen "Sip and Paint Nights" here at Country Flow Yoga since 2016. Bre is thrilled to share her gifts with others in the holistic community.